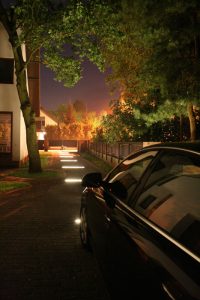 Outdoor lighting plays an integral role in illuminating our path as the day progresses and we lose the natural light of the sun. These lights are heavily relied upon to serve as motion sensor security devices to keep us safe at night. In addition, outdoor lighting brightens our sidewalks and streets, lights our driveways and adds visual appeal and function to our outdoor space. There are a number of reasons LED lights are the best option for lighting outdoor spaces. Included among the benefits of LED lighting are:
Energy Savings
LED lighting offers more lumens per watt, which is an indication that they shine brighter than incandescent or halide lights. Best of all, they do this while using considerably less energy.
Longer Life
These lights, depending on how they are used, have the capacity to last as long as 50,000 hours; that is approximately 25 years. This means significantly less burnt out streetlights.
Brighter Light
LED lights emit a brighter white in comparison to traditional halide street lamps. This helps with the delivery of much better illuminated sidewalks, streets and parking lots.
They Come On Instantly
When powered on, conventional lighting takes some time to warm up. When they are being used for lighting in cold, outdoor environments, this can prove quite challenging. LED lights require very little heat to operate and as such, they always power on instantly, even if the temperature is below freezing.
Flexibility
You will be able to find outdoor LED lighting in a variety of forms. These include motion sensor security lights, wall mounted fixtures, street lighting and so much more.
Durability
In contrast to other types of outdoor lighting, LEDs are made with durable materials like plastic, not glass. These lights can withstand harsh weather condition a lot better than conventional bulbs.
It is likely that in the near future, more and more cities could be using outdoor LED lighting for security lights and streetlights. While still more costly when compared to conventional lighting options, the energy-savings benefits of LEDs will help with paying for the lights over time.