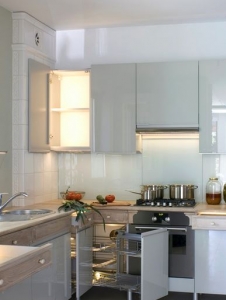 Craving that new designer look in your home's kitchen? LED lighting brightens up even the smallest kitchen with an updated new style. From recessed lighting to strip lighting, there is an LED lighting solution that's right for your kitchen. Here are our top 5 styles:
1. Lighted Drawers — So you can find everything you need.
Lighted drawers are everywhere this design season and there's every reason for them to be. They're convenient, easy to install, and your current cupboards can usually be adapted to fit them. Simple strip lighting will illuminate even the smallest corner of your drawers and cabinets with soft LED. Since it is LED, it's even affordable and long lasting, making sure you save money and your new lighting is built to last.
2. Spot Lighting — for an upscale look
Spot lighting is ideal for a large kitchen with a need to draw focus to a certain area. Spot lighting is just right for artwork, tables, work stations and other areas that need a bright light. Spotlighting installed with LEDs can be both from your ceiling and from under the counter or ledge. Making lighting far easier to pinpoint to a limited area.
3. Ambient Lighting — For a permanent style upgrade
Install multicolored ambient lighting in your kitchen and gain the ability to change the color of your kitchen with just a touch of a button. Multicolored ambient lighting is amazing for holidays, parties, and just anytime you need a change in your kitchen! LEDs have the capacity to show a wide variety of light, giving you a wide selection of colors to choose from.
4. Floor lighting — To guide your way
Floor lighting is the newest trend from all the design shows and it is made possible with LED lighting. Embedded directly into your floor, LED lights guide your way through your kitchen with futuristic strip lighting.
5. Clean accent lights — for a sophisticated kitchen
Accent lights are no longer a high-cost feature, they're affordable and easy to install behind your stove, under your counter, cabinets or where ever else you kitchen needs a small amount of light. Create any type of effect with a wide variety of lights perfect for you needs.
No matter you lighting needs, LEDs offer a low cost, easy to install and simple solution for your kitchen. Try one or all of these ideas and enjoy your new updated kitchen at only a fraction of the price.