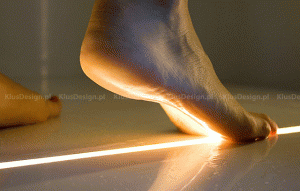 In the world of modern lighting design, LED strip lights are becoming increasingly popular. Although the uses of the strip lights (also called LED ribbon lights or LED tape lights) are varied enough, today's lighting designers and architects will most commonly use these light strips for creating accent lighting within modern or industrial themed decors. The flexibility and the ease of use of these products have also made them highly popular with the DIYers.
But before we go further, here are some basic details about LED strip lights that you may find useful.
What Are LED Strip Lights?
LED strip lights are flexible circuit boards populated with tiny Led lights. You can cut the strip according to your chosen length and then connect the strip or the circuit board to a power unit (either by soldering wires to the end of the strip or you can also use a power connector accessory for a neater job). The back of these strips are commonly fitted with a strong adhesive tape which holds on tightly to many different types of surfaces—walls, wood, metal, fiberglass and so on.
Why LED Strip Lights?
There are many benefits to using a strip light. To begin with, the strips are highly flexible and you can bend them almost up to 90 degrees. This increases your options so much since now you can insert lights in places which would otherwise be impossible to access with standard lighting fixtures.
The strips are also really thin (2mm) which means that you can install them even in very tight spaces and keep them hidden from the view, too. Also, you can cut a LED strip every few inches and this feature enables you to get your desired length without any difficultly.
Another highly useful feature from a design perspective is that you can attach lights of different colors and brightness within a single strip. LED lights, in general, are manufactured in such a manner that they can emit a variety of single colors and with some of them, you also have the color changing options. And this allows so much scope and versatility to a lighting designer when he is setting up the lighting for a particular space.
In addition, some manufacturers also offer dimmable LED strip lights that are compatible with remote dimmers, wall dimmers and most DMX and home automation systems.